Our Indian partners from Eurokash Engineers & Consultants visited Ukraine.
During visit from 01.06.2015 till 07.06.2015 they visited with representatives of Firm "Relayexport"Ltd., number of enterprises – Patona Welding Institute, ITATI Company, PJSC KCDBV, Kyiv, Nasosenergomash, Ukrrosmetall, Sumy, EMSS, KZTS, NKMZ, Kramatorsk. During the meetings good relations with Ukrainian partners was established.
It were discussed matters as follows:
Welding processes in railway industry

Supplying of Hi Tec valve production

Modernization of power equipment

Supplying and modernization of forging hydraulic presses

Supplying and modernization of pumps and compressors

Supplying and modernization of heavy machine tools

Supplying of forged and casted rolls, shafts and spindles for metallurgic and power industry.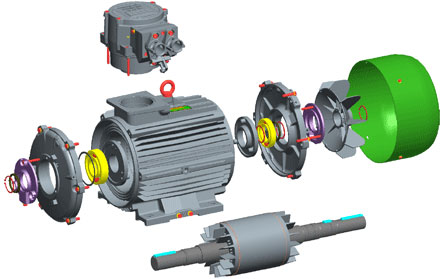 Сoncern "Ruselprom" launched a full-scale production of explosion-proof miner motors series BPA voltage 660/1140 V.
5 benefits of BPA:
The service life

is

15 years: 30 000 hours before overhaul, 20,000 hours service life of bearings.

Increased efficiency and heating reduction due to the high fill factor of the groove with copper (up to 0.84).

Low loss in the

short-circuited

rotor winding through the use electrotechnical aluminum purity of 99.7%.

Are places for temperature sensors of bearing assemblies and vibration sensors on the shields.

The bearings with low mechanical losses, noise

s

and vibration

s

.
Firm Relaeyxport Ltd participates in the exhibition ElcomUkraine 2015.
On 21 - 24 of April, KyivExpoPlaza will host 19th International Trade Fair of Power Engineering, Electrical Engineering and Energy Efficiency elcomUkraine 2015.
We invite you to visit our stand.
At our stand we will represent the various types of electrical production like Relays, Contactors, Circuit breakers,Transformers.
Firm Relaeyxport Ltd begins to work with Energomashspetsstal, Kramaktorsk on the Indian market.
The main directions of cooperation : Hot and Cold Back Up Rolls 20-70 ton and spare parts for metallurgical branch.